For most business owners, getting a business loan in South Africa can be a frustrating process. Many approach their banks directly and still get rejected after a long, drawn-out process, despite showing growth and great future prospects. Sometimes it feels like funding businesses is an impossible task but don't give up yet, there are ways to secure pollen finance to expand your business!
What Do You Need From Your Business Loan?
Many SMME's get rejected when applying for business funding because they are applying for the wrong type of loan! First figure out when you need the cash? Do you need it right now or in a few weeks or months down the line? If you're waiting for a big invoice to be paid you'll be able to pay back your loan in a matter of days. If you need the cash because your business is seasonal, you'll need a very different type of loan.
Then ask yourself why you need the cash? What are you using it for? Here is a table with some common SMME expenses that owners seek out loans to cover…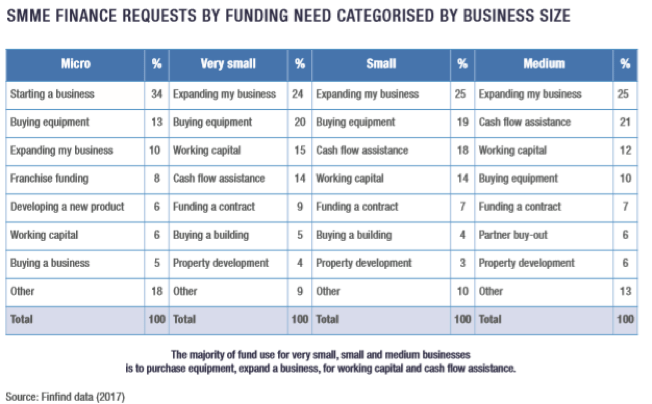 When applying for business finance, make sure the institution you are applying to offer the type of business loan you are looking for.
How To Qualify For A Business Loan 
If your business is in good credit, you'll have a much easier time securing a business loan. If you have a large debtors book, big overheads and unpaid bills, lenders are going to be a lot more nervous loaning your business money.
If you own equipment, machinery, vehicles or your building, these can be considered collateral. They are assets the lender can claim if you default on your business loan repayments.
The longer you've been operating and the more financial records you've got, the better your chances of getting a business loan approved.
Some lenders have minimum requirements in terms of annual turnover and their various loan products. Check this carefully before applying.
Is It Hard To Get A Business Loan?
Through traditional means, yes! It can feel near impossible! It is easy to get an unsecured business loan with New Heights Finance. We have simplified the process to widen access to business loans for SMME's.
We offer unsecured business loans to businesses older than 6 months with a turnover of at least R1 million in the last 12 months. Read more about what we can offer you here and we invite you to start the application process with us now.